A Nurse's Guide to Preparing for the NCLEX Exam

You have big dreams of living and working in the United States as a Registered Nurse. You've done your research and you know that the National Council Licensure Examination – Registered Nurse (NCLEX-RN) is an essential requirement. We're here to help you prepare for this important exam!
* REMINDER: Passing the National Council Licensure Examination – Registered Nurse (NCLEX-RN) is required to be able to practice your nursing profession in the United States. This is essential in securing a US employer's offer.
The path to becoming a nurse in the US is filled with challenging hurdles. But it's better to think of these as attainable milestones. One of which is passing the NCLEX. Every day, we meet applicants who view this step as a huge hurdle. They often tend to delay taking this exam until they feel that they're "ready enough" for it.
The stories of our successful applicants have several factors in common. And we're here to help you build up what it takes for you to experience your own success. This guide aims to provide a better understanding of the steps you need to take. And help you to best equip yourself before taking the exam.
In order to pass the NCLEX on the first take, we've found it valuable to remember an old military adage called – the 7Ps:
"Proper Prior Planning Prevents Pitifully Poor Performance"
When it comes to the NCLEX, proper preparation is indeed fundamental to good performance. Otherwise, the risk of failure, re-taking the exam and having to pay the exam fees again is high. You'll need to arm yourself with vital information not only about the exam itself, but also the requirements at every step of the way. By getting clarity on what to expect, what you need to do and when to get these done, you can increase your chances of completing this crucial stage in your USRN application.
Step #1: Before taking the NCLEX, check your eligibility
Once you're ready to take the NCLEX, you first need to make sure that you have the required documents to qualify for the test.
You must apply for the

CGFNS Credential Evaluation or CES

and secure your report. Majority of the state boards will require this to be submitted.

Next, you'll need to register with

Pearson VUE

to secure your

Authorization to Test (ATT).
Only when you have these two items will your eligibility to take the exam be confirmed.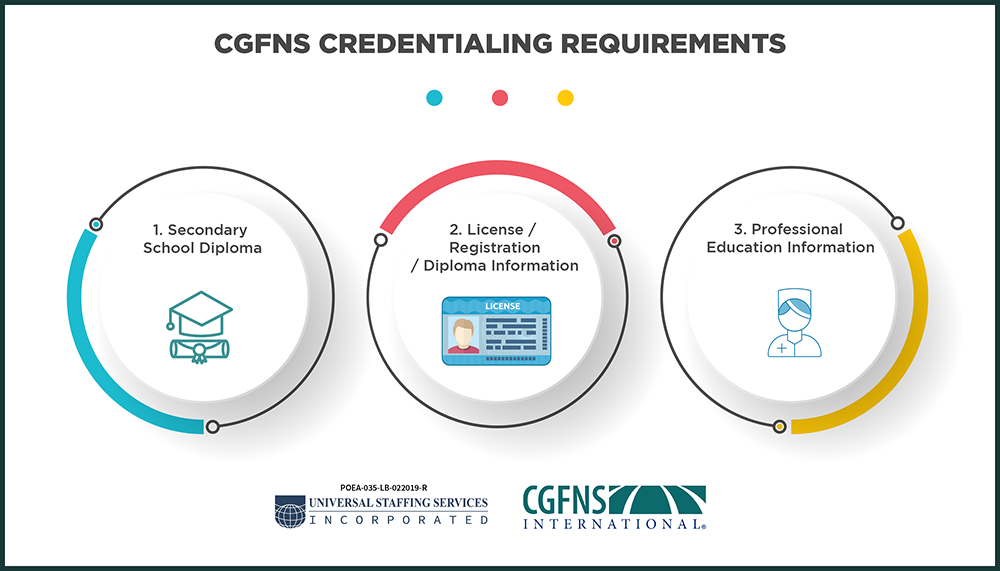 Here's an infographic on what you'll need. Better yet, check out our Ultimate Guide to the CGFNS Credentials Evaluation Service (CES)!
PRO TIP:
Be very careful when choosing the state you wish to get registered in. Take some time to review the requirements of each state. Determine how easy it will be for you to fulfil them, before you proceed to register for your NCLEX.
"The nurse must first identify which state he or she would be eligible. This will depend on the requirements of the board versus the existing credentials of the nurse." -Rachelle Olivar, IPASS Processing founder and CEO
If you have already decided which state is best for you and you are ready to sit for the NCLEX, the next step is to complete the registration process.
Get every step right by checking out the 6 Keys to a successful NCLEX application here!
Step #2: Book your exam schedule & review ahead of time
ATT Validity
Once you receive your Authorization to Test (ATT), you must take the NCLEX-RN examination within the validity dates provided. Do not wait until your ATT is close to its expiration to schedule your exam. The last thing you'd want to is to be asked to register again and then pay another exam fee if something suddenly goes wrong.
NCLEX Candidate Bulletin
Set aside some time to review the NCLEX Candidate Bulletin released by the National Council of State Boards of Nursing (NSCBN). You must do this well ahead of your chosen exam date. Or even before you register for it. The NCLEX Candidate Bulletin is a guide that covers all the aspects of the exam. You'll learn what to expect before and after your NCLEX exam, including important contact information, details on how to register, the NCLEX Candidate Rules and the results processing.
NCLEX Test Plan & Location
It's not enough to have been educated and experienced in nursing. It is equally important to be familiar with the format of the NCLEX test plan. The NCSBN provides a test plan that includes an in-depth overview of the content categories, details about the administration of the exam as well as NCLEX style item writing exercises and case scenario examples. You must also locate your test site to reserve your slot ahead of time because these can run out quickly.
Want to receive informative newsletters just like this one? Subscribe now!
Step #3: Seek support for NCLEX preparation
Understanding how to prepare and sit for your NCLEX exam can make your study sessions more effective and can improve your chances of passing the exam. To help you even further, there are institutions that provide review materials and study plans designed specifically to tackle the NCLEX.
Many of our candidate nurses who successfully passed the NCLEX exam consider formal reviewing and taking practice tests as effective study tools. Practice tests help assess your knowledge. They give you a baseline for understanding where you are starting from. Professional tutors can give you specific guidance, informed by years of experience and familiarity with the NCLEX to help you better understand, prepare and excel.
Step #4: Discover how the USCDP can help you!
There are many NCLEX review centers out there. To support our nurse candidates in increasing their chances of success, we created the United States Candidate Program (USCDP). And we leveraged our decades of experience serving thousands of nurses to partner up with the best and most highly regarded review centers in the industry.
Members of the USCDP enjoy discounts from top NCLEX review center partners all over the Philippines and the world. Some of our valuable partners provide online reviews and cater to candidates globally.
Discounts?
Here is a list of our partners who have generously offered their NCLEX review services for USCDP members at a discounted price. To enjoy their discounts, all you need to do is present your USCDP digital membership card.
Step #5: Know and Follow the Exam Rules
When the big day comes, take the NCLEX with full confidence and optimism. You can do this by making sure that you familiarize yourself with the NCLEX Candidate Rules. These include policies specific to personal items, confidentiality, NCLEX administration and break procedures.
Remember to bring your acceptable ID on the day of your exam. Candidates without proper ID will not be allowed to take the NCLEX.
10 Tips to help you pass!
Here are some helpful study tips. Sharing is caring - feel free to send this to your fellow nurses who might be studying for the NCLEX, too!
With enough determination, you could organize an NCLEX review plan to suit your preferences. There's absolutely no need to cram. And it won't help you pass, at all. When are you most productive – early in the morning or later in the day? Set aside enough time in the week to focus on reviewing during your most productive hours. Allocate some days for rest and relaxation.
No matter how much energy and motivation you might have, remember that you have limits, too. Incorporate breaks and time to do things you enjoy within your schedule!
Maintain your physical health by getting enough exercise and lots of sleep. Nurture your emotional health by making time to take care of yourself. Remember to connect with people dearest to you and seek their support when you need it. The last thing you want is to fry your brain and get completely burned out by your review.
Do you prefer working by yourself or discussing learning points with a study group? Constantly reading, memorizing concepts and rewriting notes may work for some people. But this passive type of studying can get boring really quickly. Try active studying strategies such as quizzing your study partner or teaching each other lessons.
If you don't have a study partner, you can try to teach concepts to a lay person, like your mom, friend or sibling! The ability to share a concept with them can help measure your understanding of it. Identify the combination of activities that will optimize your learning process.
Developing your test-taking skills is key to mentally preparing yourself for the variety of questions you might encounter during the NCLEX. The exam utilizes computerized adaptive testing (CAT) to ensure that no two exams are alike. The computer selects a problem based on how well you have been doing from a question bank with different topics and question types.
Working with professional tutors gives you the benefit of their extensive experience. They can help you get familiarized with how the exam works. Your chosen institution can help provide you with a combination of lectures, quizzes, study plans and practice tests to help you prepare, study and face the NCLEX with confidence.
Incorporate practice tests to help mark your progress and identify areas that need more focus. If you get low scores, don't get disheartened. Consider these practice tests as your tools to help develop your strengths and identify the weaknesses you need to overcome.
To help you remember complex concepts more easily, use mnemonics – a memorization technique that typically uses a short phrase or an acronym that you can easily bring to mind.
Remember that the NCLEX is evidence-based, and all questions come from journals, textbooks and scientific data. It might feel counter-intuitive, but it's not advisable to rely on anecdotal data or historical experience. Always use your nursing knowledge and logic to make an educated decision. When in doubt, remember that calling the physician is not usually the best first step. Assess the patient and perform the most appropriate nursing intervention first.
This ties back to our no-cramming tip. Use the evening before the exam to relax and avoid excessive studying. Practice some deep breathing to manage any tensions or feelings of anxiety. Ensure that you get a full night of quality sleep.
Have a calm morning with enough time to prepare and travel to the testing venue. Bring your applicable ID and everything else required. You have a big day ahead!
Most importantly, believe in yourself! The exam is definitely tough. It's not unusual to feel overwhelmed or frustrated during your reviews. When you find yourself struggling, remember how much effort you've put in to finish nursing school and the experiences you've gained since graduating. Remember to look back and celebrate how far you've come! You have proven yourself worthy by completing the process up to this point. Don't let any fear or doubt get in the way of your dreams of working in the USA!
You can get there! And remember we're here to help you. All your effort in planning, practicing and preparing prior to taking the NCLEX will certainly help you prevent pitifully poor performance.
If you'd like to learn more, we regularly share the latest information. And we can send these right straight to your inbox.
Think you're qualified already for a job vacancy in the US? Apply now in our Job Opening portal, and expect one of our recruitment officers to send you an email or give you a call shortly.
View our job openings and apply now!
Resources:
https://www.ncsbn.org/1213.htm
https://www.ncsbn.org/2019_RN_TestPlan-English.htm
https://www.ncsbn.org/before-the-exam.htm
https://www.ncsbn.org/1213.htm
https://www.ncsbn.org/testplans.htm
https://www.ncsbn.org/NCLEX_Bulletin_March_2020.pdf
https://www.ncsbn.org/1221.htm
More links to helpful tips:
https://nurse.plus/how-to-pass-nclex-first-time/
https://nurse.org/articles/how-to-pass-nclex-the-first-time/
← Back to List of News