No NCLEX / IELTS? No Problem! Qualified Nurses Welcome to Interview with Latitude 36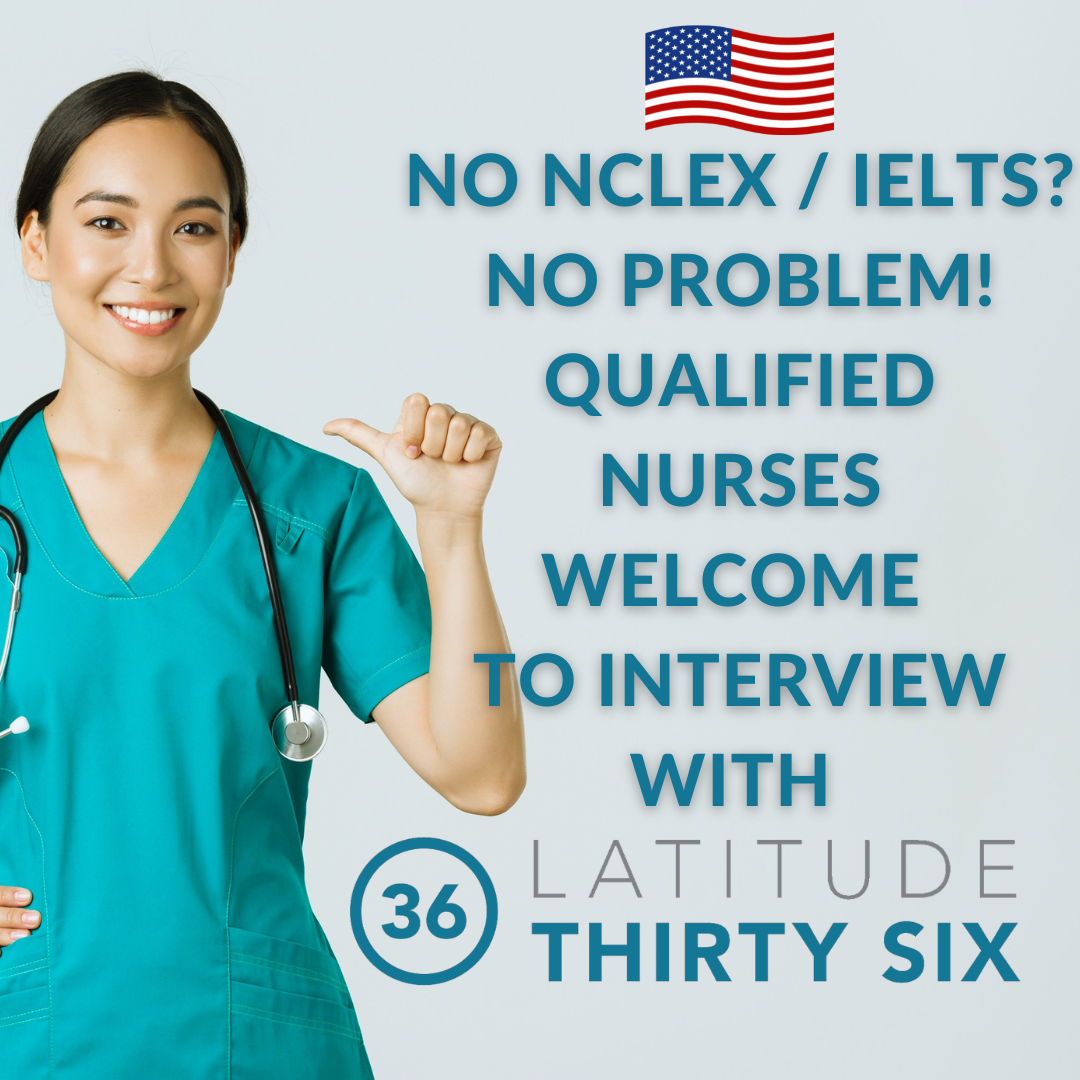 Are you a qualified nurse with no NCLEX or IELTS at the moment? Don't worry. You can secure an interview with Latitude 36! Take advantage of the ongoing interviews and submit your application today.
More and more opportunities are opening up for Filipino nurses aspiring to work in the United States. With hospitals continuing to struggle with the nursing shortage, internationally educated nurses are in high demand. The visa bulletin is constantly current and the immigration process improved in speed and smoother movement as compared to a couple of years ago.
For nurses, choosing a secure, trustworthy and reliable company to work with is essential to developing their dream career in the United States. Unistaff is committed to helping aspiring USRNs make informed decisions and take steps towards boosting their career. That's why an official partnership with Latitude 36 was formed.
Latitude 36 works with the largest hospital association in the United States and exclusively partnered with HCA Healthcare group USA. The Latitude 36 Nursing Program has nearly 15 years of experience placing International Nurses in some of the finest hospitals in the United States. Nurses that entrust Latitude 36 with their professional careers are assured of having a company behind them that supports their career objectives to the fullest. The company's vision is for its International Nurse Program to be the most esteemed and most highly regarded nurse recruiting program in existence.
The partnership between Latitude 36 and Unistaff enhances the recruitment process and experience for all Filipino nurses all over the world, wherever they may be. Whether they are in the Philippines or in the Middle East, recruitment experts at Unistaff are ready to support them in their application.
All Qualified Nurses are Welcome!
The best news is that Latitude 36 welcomes all qualified nurses to submit their application even if they have not yet passed their NCLEX. Upon passing the initial screening, they can be scheduled for an interview immediately! This makes the process even more efficient.
Interviews are ongoing and held via Skype Mondays through Fridays.
That means, every weekday offers a chance for qualified nurses to get interviewed. The earlier you submit an application, the sooner you can be considered for an interview!
Don't wait or hesitate! The opportunity is here, and if you're still thinking about it, take a look at the some of the benefits of working with Latitude 36 and Unistaff:
Resume review to ensure qualifications & criteria are met by prospective nurses

Nurse candidate screening and interviewing

In house immigration expertise for 100% immigration process completion

Hospital interview preparation for nurses

Interview preparation for nurses

Cultural assimilation - smooth transition culturally and adapting to the U.S. with the greatest of ease

Managing all processes (A to Z), as well as license endorsements

U.S. nurse arrival preparation - collaborating with Latitude 36 for ongoing continued education and arrival readiness

Pre-onboarding with Latitude 36 – from airport arrival to pre-orientation at the hospital

Dedicated nurse relationship liaison for ongoing communication and support after arrival in the U.S.
These benefits are great for nurses. And another key factor that Unistaff prioritizes is process speed. When it comes to getting things done, Latitude 36 has a strong track record.
The I-140 petition is the second step in the employment-based Green Card process. The employer files the Form I-140 - known as "Immigrant Petition for Alien Worker" – on behalf of the nurse.
For perspective, the usual practice is that nurses get filed months after their interview. Latitude 36 does this within 2 weeks. After filing, other firms usually take 6 to 8 months before coming back to the nurse with a receipt notice which secures their priority date. Latitude 36 has done this consistently within 4 months.
With online interviews happening every day, Mondays through Fridays - when will your interview be?
We have worked with nurses like Marc Lim and Leig Moran who have inspired many others with their stories of success working with Latitude 36. You can make it, too. You just have to take the first step. Even if you don't have your NCLEX or IELTS yet, submit your application or send us an email at usplacement@unistaff.us.
Begin your USRN journey by applying with us! Get interviewed immediately through Skype upon passing initial screening!
Curious about how to kickstart your career in the U.S. with Latitude 36? Sign up to join any of our UCSDP orientations for FREE!
Sources:
3 Qualities of Secure US Employers | Get to Know Latitude 36
https://unistaff.us/news-details.php/106/3-qualities-of-secure-us-employers-get-to-know-latitude-36
Latitude 36, Inc. - Officially Universal Staffing's Partner in USA Nursing Placements
https://www.unistaff.us/news-details.php/79/latitude-36-inc---officially-universal-staffing-s-partner-in-usa-nursing-placements-article
Reach your USRN Career Goals Through Latitude 36
https://www.unistaff.us/news-details.php/78/reach-your-usrn-career-goals-through-latitude-36-testimonial
← Back to List of News