EB-3 | Your Guide to the Green Card
If you are a nurse looking to work in the United States, then somewhere in your application process, you will encounter the term "EB-3." This stands for Employment-Based Immigration: Third Preference Visa, more commonly known as the green card.
This type of visa is the one typically used for international nurses migrating to the U.S. It provides numerous benefits including US residency with no expiry date and more.
What is the EB-3?
Many healthcare professionals aim to work in the US Some even consider it their dream destination because of the many opportunities that a job in the US can bring. US working visas for professionals, including nurses, have their own unique benefits, too.
Among the many categories under employment and immigration visas, the US has categorized professions like nursing under the EB-3 Visa.
The EB-3 Visa allows foreign workers who have found an employer willing to hire them to move to the US to permanently work and live there. It also gives the worker the option to bring their dependents with them.
Professionals would usually immigrate to the US with employer sponsorship through the I-140 Immigrant Petition for Alien Worker in the EB-3 visa category. For most of these employment visas, the employer has to go through a lengthy process to show that they cannot find a US worker who is able, willing, qualified and available for the position.
For EB-3 nurses, however, the US government has determined that there is a shortage of professional nurses in the country. So if you were a nurse being sponsored, it will be easier for your employer to bring you over to the US. The process will be more expedited than it would be for other professionals.
Nurses are normally classified as "skilled or professional workers" within this category. In this process, the employer is the "petitioner." The nurse is the "beneficiary" or "principal applicant."
The date your employer files the petition is called the priority date (PD) and that oh-so-important date determines your visa's availability.
Note: Always remember your priority date and keep all your documents, especially notices from the US government.
Who is eligible for the EB-3 immigrant visa?
You may be eligible for the EB-3 immigrant visa if your profession falls within the categories indicated below.
The good news is the requirements are not as stringent as they are for the second and first preference levels. Also, there is no need to get a master's degree, to prove exceptional abilities or achievements, or to become an executive in a company.
In order to be considered eligible for an EB-3, you simply need to qualify based on the three categories indicated above.
Subscribe now to receive informative newsletters just like this one!
How to apply?
After going through an interview with a potential employer and successfully passing it, you will be given an offer. Upon agreeing to the terms and conditions of your work and submitting all the required documents, the US employer becomes your petitioner. They must submit a Form I-140, Immigrant Petition for Alien Workers.
As part of the application process, your petitioner must be able to demonstrate a continuing ability to pay the offered wage as of the priority date. Your petitioner may use an annual report, federal income tax return, or audited financial statement to demonstrate a continuing ability to pay your wage.
The main point is that: EB-3 applicants require sponsorship from an employer, such as Latitude 36 and Professional Placement Services (PPS), among other US agencies or facilities.
What happens after you apply?
Once the U.S. Citizenship and Immigration Services (USCIS) receives your Form I-140, your petitioner will process your application and then you will receive:
A receipt notice of your I-140, Petition for Nonimmigrant Worker,

A notice for Biometrics appointment, and

A notice of a decision in writing.
Here are examples of Latitude 36 nurses' sample receipt notices:
The US visa application procedure is complex and multi-layered. It will take time and consistent effort. Latitude 36 is by far one of the fastest in filing petitions for nurse applicants.
Can I bring my relatives to the U.S. with an EB-3 Visa?
Once your EB-3 visa is approved, your family members, like your spouse and children below the age of 21, can join you in the US.
If your EB-3 visa was approved under the skilled and professional category, your spouse can apply for the E34 visa, and your children can apply for the E35 visa.
If you are an unskilled EB-3 worker, your spouse and children can apply for the EW-4 and EW-5 visas, respectively.
In addition, if your application is approved, your spouse can apply for an Employment Authorization Document to be able to work lawfully in the US while the permanent residency application is being processed.
Explore your opportunities to obtain the EB-3 Visa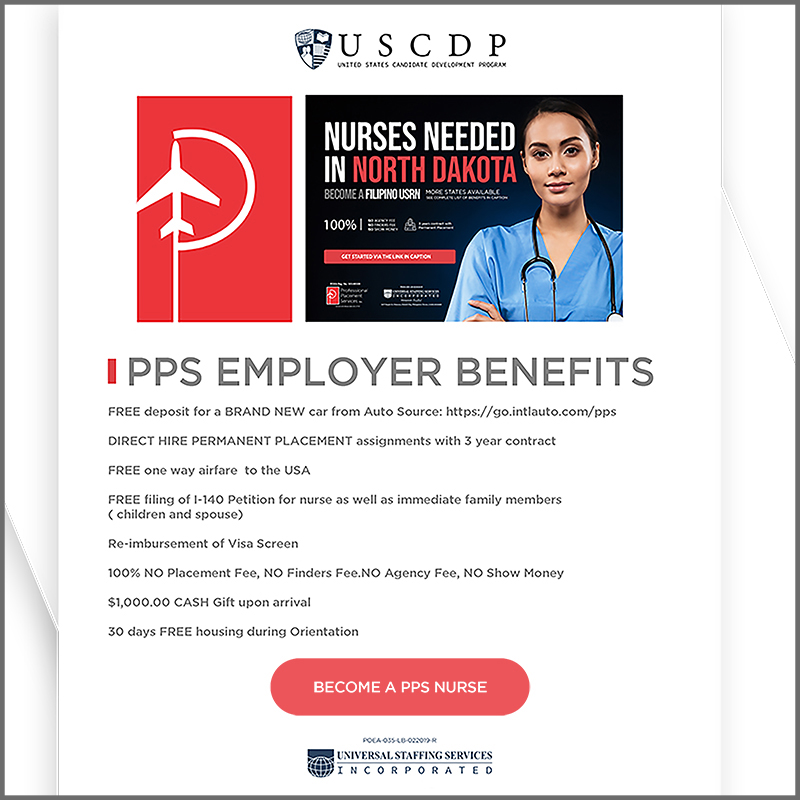 To support your search for verified opportunities, Universal Staffing Services, Inc. (UNISTAFF) has decades of experience working with well-regarded U.S. employers. Professional Placement Services (PPS) is just one of our partner US employers who offer the EB-3 Visa to qualified nurses who have gone through interviews and have successfully completed all that is required of them.
PPS currently focuses on the recruitment of nursing professionals for Direct Hire US employer placements. UNISTAFF and PPS have been working together since its inception, and together, we have helped thousands of nurses to secure their dream jobs.
Latitude 36, Inc., is another UNISTAFF exclusive partner. Latitude 36 places nurses within the HCA Healthcare group USA, which ranks 247th in Forbes World's Largest Public Companies 2019 and ranks in 3 states' America's Best Employers by State 2019.
How Universal Staffing (UNISTAFF) can help you
Going through any immigration process alone is never a good idea. As with any legal situation, it's best to have an expert by your side. And we can definitely help you!
UNISTAFF has decades of experience working with employers and nurses alike to help professionals come to the US to work.
We have deployed thousands of nurses and we understand how complicated the whole application process is. It is extremely time-consuming because of the amount of work and effort required to pay close attention to details, and to fulfill each requirement correctly and in a timely manner, at every stage of the rigorous procedure.
We hope this helped you understand what the EB-3 Visa is all about! You're always welcome to message us if you have any questions.
Interested to learn how our USCDP members have fast-tracked their applications with us? Join our online/live orientation to find out more. Subscribe today and we'll let you know when our future orientations are!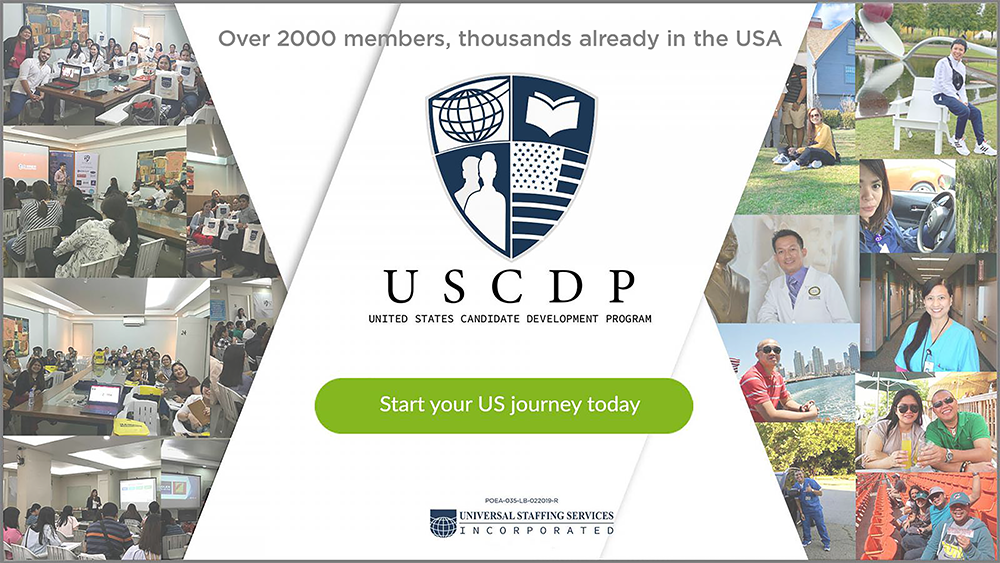 Source:
https://www.uscis.gov/working-in-the-united-states/permanent-workers/employment-based-immigration-third-preference-eb-3
← Back to List of News