3 Qualities of Secure US Employers | Get to Know Latitude 36
If you're looking to work in the United States as a healthcare professional, it is possible only with a working visa petitioned by a credible employer. In order to avoid being misled by scams and to pursue real opportunities, it is in your best interest to learn exactly how to verify employers. How can you make sure that a US employer is reliable and trustworthy?
The global pandemic has made the nursing shortage in the US more critical than ever before. This extraordinary situation opens up the possibility for health care professionals like yourself to explore your employment options abroad. Employers from all over the world, including the US, are searching for Filipino talent to fill much needed roles in the medical field.
While an abundance of employment offers may look good at first glance, how do you distinguish good employers from bad ones? We're here to help you save time filtering through the clutter and focus your energy on applying only to reliable employers.
We at Universal Staffing Services, Inc. (UNISTAFF), have had decades of experience evaluating global employers from various industry sectors. We only work with employers whom we are certain could provide high quality jobs to every aspiring Overseas Filipino Worker (OFW) who seeks our help. In choosing which ones to partner with, here are the 3 traits we have consistently found in reliable and secure US employers:
Positive reputation

Provides opportunities for career growth

Comprehensive offer terms and benefits
Note: The list of traits does not take target states into account, as this is mostly based on personal preference, unique to each individual aspiring OFW.
It helps to have a good understanding of who your potential US employer is, the benefits they offer and how they can support your career progression. Despite the headaches it may cause, it pays to make the extra effort to do a thorough background check about the company. Learn as much as you can about their operations, values, and worker experience, if possible. To give you an idea on how much research you could do, try to find financial information, if you can. Before US companies are allowed to recruit talents from abroad, there are certain processes that require them to demonstrate good financial standing and ability to pay salaries advertised for vacancies they need to fill. Making sure that your US employer is a large and stable company will give you some reassurance that everything will proceed as smoothly as planned.
In extreme cases, working visa denials can be attributed to employers when they are not able to satisfy the requirements for the employee's green card.
Do not blindly accept a company simply for their promise to give you a job in the US. You want to make sure that you're securing your future by establishing a strong foundation – and that begins with working with a trustworthy employer.
We are always here to support your search for a well-established and responsible US employer. In fact, UNISTAFF has partnered with one such employer – Latitude 36.
Let's through the 3 traits of a secure US employer and how Latitude 36 stacks up against these.
1. Positive Reputation: Who is Latitude 36, Inc.?
We've established that a company's stability can be key to a successful application for working in the US. Here are some background information on Latitude 36, Inc. (Latitude 36):
Latitude 36 is a national, full-service staffing and professional services firm, specializing in recruiting solutions for Information Technology, Healthcare, and Business Professional positions. Founded in 2000, their clients include Fortune 1000, large (500MM+) privately-held companies, and non-profit corporations.
Meet Mr. Jason Pyle, President and COO of Latitude 36, Inc. – sharing his message to our Filipino Nurses:
The Latitude 36 Nursing Program has nearly 15 years of experience placing International Nurses in some of the finest hospitals in the United States. Nurses that entrust Latitude 36 with their professional careers are assured of having a company behind them that supports their career objectives to the fullest. The company's vision is for its International Nurse Program to be the most esteemed and highest regarded nurse recruiting program in existence.
They have exclusively partnered with Universal Staffing Services Inc. (UNISTAFF) for the recruitment of Filipino nurses who come from all around the world, whether you're currently in the Middle East or you're in the Philippines.
2. Provides Opportunities for Career Growth: Work in Large Hospitals
While there are many opportunities in the US for international nurses, roles within large and reputable hospitals are exceptionally rare. Latitude 36 distinguishes itself from other firms by offering nurses a chance to work within the HCA Healthcare group USA, which ranks 225th in Forbes List of the World's Largest Public Companies (2020) and is recognized in 3 states for America's Best Employers by State 2019. Work experience gained from working with these large hospitals in America certainly helps accelerate progress in one's career.
Mr. Jason Pyle talks about the facilities of their client hospitals:
"We work with Level 1 and Level 2 Trauma Centers, many JCI accredited, and with the latest technological advances. Finally, in terms of the care and coordination our Nurse Employees receive from Latitude 36, no company places more importance on our nurses being comfortable and well-integrated into their new homes in the United States. We go to great lengths to ensure you have everything you need to be ready to start your assignment and thrive!" - Jason Pyle
"This is something that most other agencies would never do. If you are a nurse who wants to go to America, I highly recommend Latitude 36!" - Mr. Marc Lim (Latitude 36 nurse)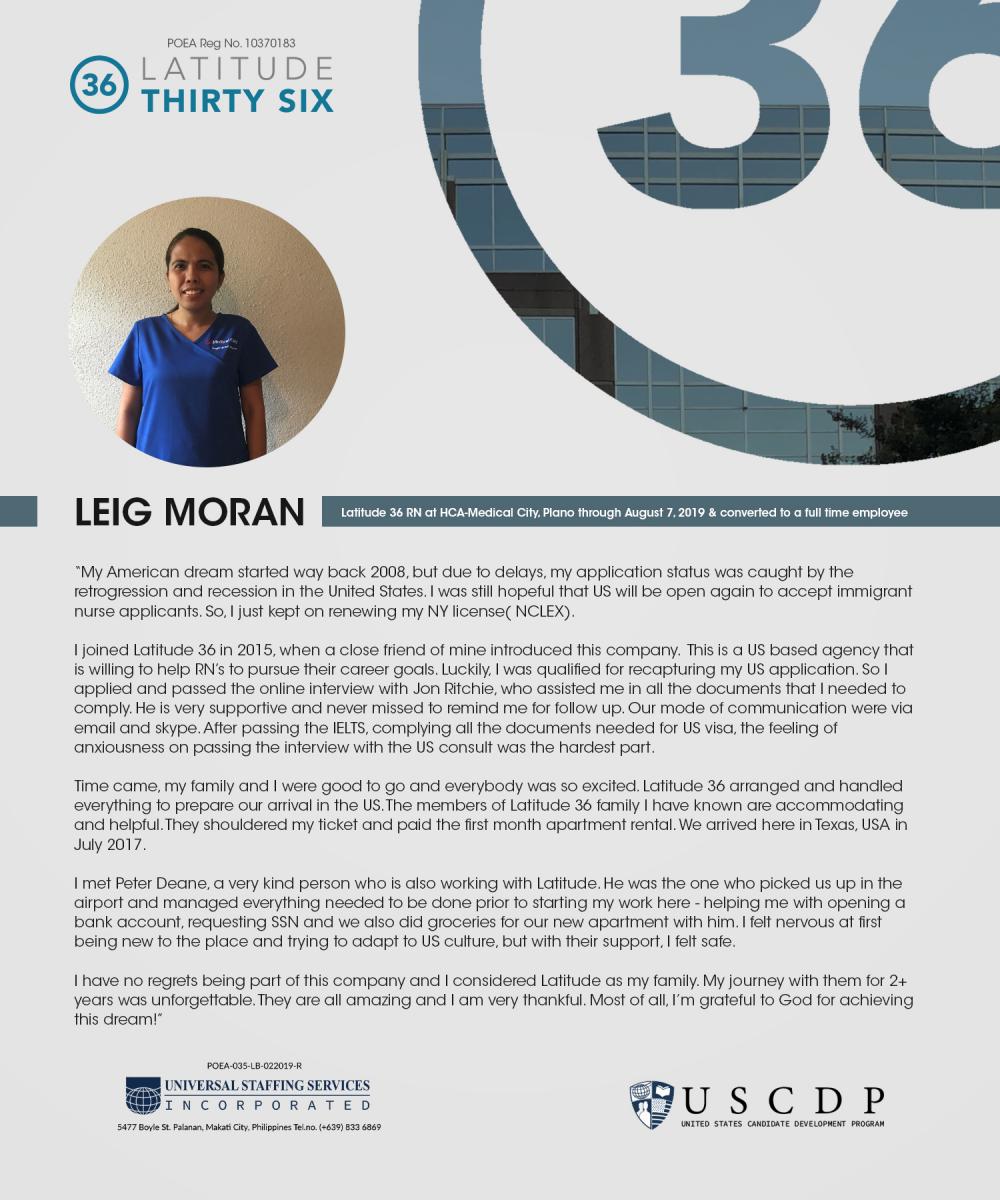 "I felt nervous at first being new to the place and trying to adapt to US culture, but with their support, I felt safe."- Ms. Leig Moran (Latitude 36 nurse)
These are just some of the testimonials from Filipino nurses who work with Latitude 36. If you're looking for career development, you've come to the right place.
3. Comprehensive Offer Terms and Benefits: Being a Latitude 36 Nurse
For many aspiring US nurses, an employer's offer terms and benefits could make or break their big decision. Latitude 36 understands how important this is. And they've put together a competitive offer that makes even non-medical practitioners want to become a nurse!
But wait… there's more! Literally. If you think it stops there, you're sorely mistaken. Latitude 36 has one of the best assistance packages for their nurses to be able to make every step of their journey that much easier.
The list of benefits above show great qualities. But since UNISTAFF is a recruitment agency, we review a slightly different set of criteria that focuses on process speed.
And again, Latitude 36 did not disappoint.
The I-140 petition is the second step in the employment-based Green Card process. The employer files the Form I-140 - known as "Immigrant Petition for Alien Worker" – on behalf of the nurse.
For perspective, the usual practice is that nurses get filed months after their interview. Latitude 36 does this within 2 weeks. After filing, other firms usually take 6 to 8 months before coming back to the nurse with a receipt notice which secures their priority date. Latitude 36 has done this consistently within 4 months.
If you think you have what it takes to be a Latitude 36 nurse like Marc and Leig, don't hesitate to grab the opportunity while it is here. Marc and Leig are now living their American dream with the help of Latitude 36. But they started out just like you – reading, researching and deciding. Marc and Leig took the chance and worked hard to get through the process. You can do this, too!
Take the first step – send us an email at usplacement@unistaff.us
Or you could apply through our job opening below:
View our job openings and apply now!
Start your American dream with Latitude 36 by signing up to join any of our UCSDP orientations for FREE!
Resources:
https://www.unistaff.us/news-details.php/78/reach-your-usrn-career-goals-through-latitude-36-testimonial
https://unistaff.us/news-details.php/101/nurse-shortage-in-usa-covid-19-drives-up-demand
https://www.forbes.com/companies/hca-healthcare/#7bcac3445945
https://www.forbes.com/global2000/#5f5226ef335d
https://www.forbes.com/best-employers-by-state/#16350d13487a
← Back to List of News