Now You Know | Employment Contract Basics for OFWs
Picture this scenario: You have just finished your online interview with an overseas employer. Then, you check your email and see an employment contract ready for your signature.
You must feel thrilled! We understand this looks like an exciting development and we don't want to take this away from you. But our advice is to step back and pause. It is crucial for you to first establish an understanding of typical Overseas Employment Contracts before you seal the deal and sign into any agreements. We know you don't want to 'pause' for too long, so let's get right to it!
An overseas employment contract is an agreement between the hired individual or Overseas Filipino Worker (OFW) and the foreign employer. This contains various terms, conditions and stipulations, which both parties must fully understand and agree with. In some cases, some negotiations and discussions may be needed before coming to a final agreement.
To protect the rights of OFWs, the Philippine Overseas Employment Administration (POEA) set minimum provisions for a standard employment contract. This may also serve as a reference during instances of an employee-employer dispute.
This stresses the importance of reading and analyzing the employment contract even more, before signing it. After all, this single document has the power to protect you and your rights as a migrant worker.
Note: Every time you open a bank account or apply for a loan, lenders, both banks and private financing companies will ask you to present this one important document: your Overseas Employment Contract.
What is an employment contract?
For OFWs, the overseas employment contract is the most important document. They must have their contract on hand before departure.
It is written to legally define the relationship between the employee and the employer. Both parties have to agree and sign a written contract before the new hire can start working.
This document ensures employees follow the company's rules and regulations. A well-defined contract makes sure that both parties understand what is expected from each other. It protects the employer in case of resignation, termination, or salary disputes. It's a replacement for any prior agreements between both sides, verbal or otherwise. It also confirms the employer's obligations in terms of compensation, benefits and rewards due to the employee.
Why are employment contracts important?
An employment contract spells out the obligation and rights of each party. It provides job security for the employee and protects the employer from risks like lowered productivity due to unclear working protocols.
Before signing any legally binding document, you need to pause and ask yourself: do you really understand everything that's written in your contract? If there's even one line that is unclear or does not seem right, you should stop and step back. Seek professional advice and make sure that everything is crystal clear to you.
At the minimum, you need to check for the following provisions:
Essential Elements of an Overseas Employment Contract:
Ø Your employer's information: name of the company and address overseas
Ø Your information: name and address
Ø The agency or employer's representative in the Philippines who hired you
Ø Site of employment or the country where you will be assigned
Ø Duration of the contract, starting from your departure in the Philippines to the arrival in the country where you will work, and the end date; your Overseas Employment Certificate (OEC) must also include how long your job contract will be
Ø Your position or nature of work
Ø Basic monthly salary in accordance with the prescribed standards or guiding rates
Ø Working hours for how many days per week, which should be eight hours per day and not more than six days a week; the contract must also specify your designated rest day(s)
Ø Offsetting benefits such as free food, transportation to and from the worksite, and accommodation
Ø Pay for services rendered during regular holidays, overtime work, and work rendered even during rest days
Ø Employee benefits such as vacation leaves, sick leaves, medical and dental insurance, and compensation in case of sickness, accidents, injuries, or death
Ø Personal life and accident insurance, which is provided at no cost to the OFW
Ø Repatriation clause in case of death
Ø Just causes for termination
What are the rights and benefits of OFWs?
The terms in the employment contract are based on a number of factors. These might include the labor laws of the host country. Or any agreement or partnership between the Philippines and the host country.
Regardless of the conditions, the monthly wage should not be below the allowed minimum amount set by the law. This entitles the worker to basic privileges of a hired worker, including but not limited to rest days and health benefits.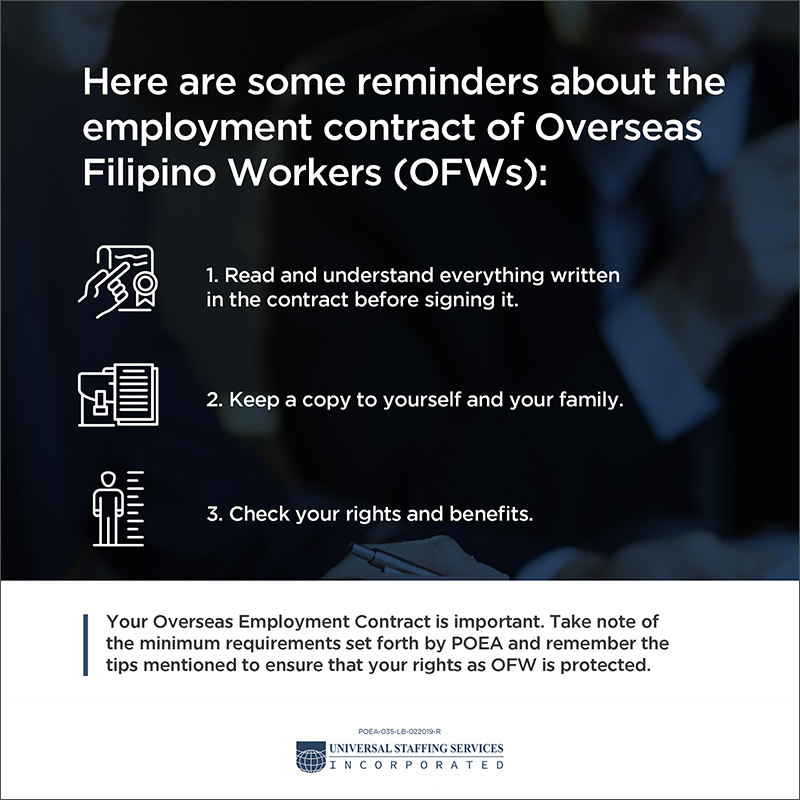 Your Overseas Employment Contract is important. Take note of the minimum requirements set forth by the POEA. Remember these tips to make sure your rights as an OFW is always protected. You work hard for your family. And you can only give your best if your interest and well-being is also protected at work.
Make sure that you have a copy of your contract. Prepare another copy to hand over to your family before your departure. Keep it in a safe place! If you need to file any complaints or settle any disputes with your employer, you can always refer to what is stated in your contract to back you up.
Now, in case you have signed a contract in haste, have started to work abroad for an employer and later on realized that some of the items in your contract are violated, you can request legal assistance and counseling through the POEA Legal Assistance Online.
Got more questions?
You're always welcome to ask us anytime! Meanwhile, check out our article about illegal recruiters to know more about the do's and dont's of applying for a job abroad.
Take a look at our international job openings, and click below so that our recruitment team can review your CV immediately.
Sources:
https://www.workabroad.ph/blog/item/14/Things-You-Need-to-Know-About-the-Employment-Contract-of-OFWs
← Back to List of News